Carrie Arblaster
Vice President, Public Policy
Image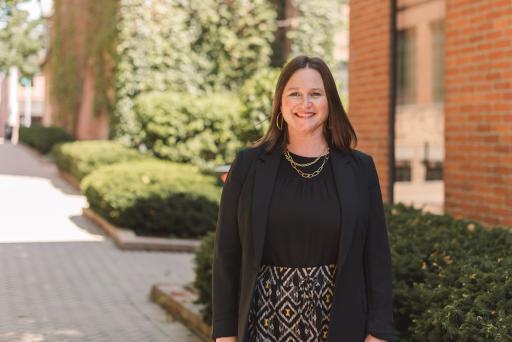 Name: Carrie Arblaster
Pronouns: she/her/hers
Title: Vice President, Public Policy
Phone: 614.388.9961
Email: carblaster@philanthropyohio.org
Here's what I can help you with:
Questions about state or federal policy
How public policy is impacting philanthropy
Connecting you with state legislators
How to engage your local policymakers 
What's your role at Philanthropy Ohio?
As vice president of public policy, it is my job to ensure that Ohio's philanthropic community is well represented at the state and federal levels and that policymakers understand the vital role philanthropy plays in their communities. Additionally, we provide timely information about state and federal policy, empowering our members to make informed decisions about their work. 
What's the best part about your job?
Sharing with policymakers all of the wonderful things Ohio philanthropy is doing! 
When did you start work at Philanthropy Ohio?
January 2022 
Career background/education?
MA, International Relations and Comparative Politics, Wright State University
BS, Sociology, Milligan College
I have worked in Ohio politics for over a decade, and I began my career in the Ohio Senate as a Legislative Service Commission Fellow. Shortly thereafter, I moved to the campaign side and ran state legislative races for two cycles. Although I loved campaign work, they are exhausting so in 2016 I accepted a position with the Ohio Realtors. While there, I lobbied and ran their hard and soft dollar PAC's. In late 2021, I saw the opportunity to work at Philanthropy Ohio and was incredibly excited when I learned I was being offered the position. 
Current city, and what do you like about it?
I am originally from New Carlisle, Ohio. I left the state in 1998 to attend college in east Tennessee. When I came back to Ohio for graduate school, I moved to Tipp City. I have been there since 2003. I chose Tipp City because it is a small town with a vibrant downtown and easy access to the outdoors. We have a wonderful collection of shops and restaurants. The Great Miami River runs through our town connecting us to the Great Miami River Trail. We are surrounded by corn, bean and wheat fields and have several prairie reserves near us as well. The Miami Valley Bike Trail runs right through our downtown providing ample opportunity for outdoor exercise. 
What's something people might not know about you?
I play the piano. 
What do you do outside of work?
Listen to live music, travel, bike and gardening.