Jessica Howard
Senior Director, Communications & Marketing
Name: Jessica Howard
Image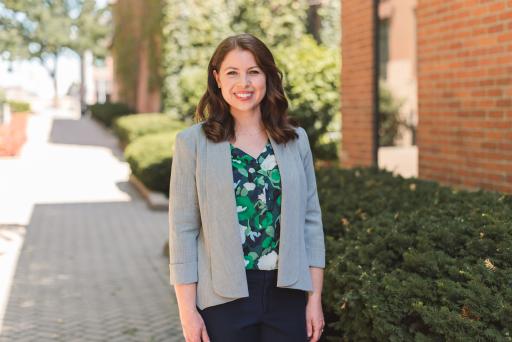 Pronouns: she/her/hers
Title: Senior Director, Communications & Marketing
Phone: 614.914.2248
Email: jhoward@philanthropyohio.org 
Here's what I can help you with:
Developing meaningful content for our communications channels that highlights your knowledge, expertise and leadership
Sharing your organization's news through social media, enewsletters and other channels
Introducing new staff to their Philanthropy Ohio membership and answering membership questions
Sending our logo, receiving your logo and any branding questions
What's your role at Philanthropy Ohio?
I lead, develop and implement Philanthropy Ohio's marketing and communications strategies internally and externally. This includes researching, writing, designing and curating the content for our communications channels, social media and knowledge resources like our print and electronic member newsletters, website and research reports. I am also our in-house graphic designer and photographer. 
What's the best part about your job?
Philanthropy is an incredibly collaborative, innovative and passionate sector. I love learning about the transformative work our members do, sharing their expertise, their stories and their voice to help all our members be effective partners for change in our communities. 
When did you start work at Philanthropy Ohio?
February 2014 
Career background/education?
I attended Bowling Green State University in Bowling Green, Ohio, and earned my bachelor's degree in journalism with a concentration in public relations. Before joining Philanthropy Ohio, I worked for several years in nonprofit marketing and communications roles at a health care system and then at United Way. 
Current city, and what do you like about it?
I live in Columbus, specifically the Clintonville neighborhood, and I love it here. My neighborhood is a block away from the Whetstone Park of Roses, the Olentangy River and just a few miles from downtown. Columbus has a booming arts, culture, music, food and brewery scene but also incredible greenspaces. I'm from Northwest Ohio but spent a great deal of my childhood just across the state line in Southeast Michigan. Having grown up on Lake Erie, I continue to have a love for the water. 
What's something people might not know about you?
I have two rabbits, adopted from a rabbit rescue, and six chickens. 
What do you do outside of work?
I love to travel, visit local breweries, tend to my flowers and vegetable garden (always trying to keep the deer out) and roast coffee with my husband. I also volunteer with the Clintonville-Beechwold Community Resources Center.