Laura Smith
Vice President, Programs & Learning
Image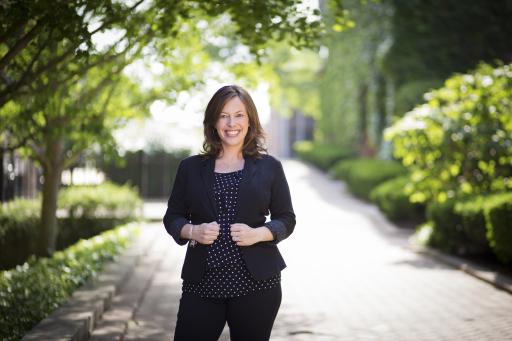 Name: Laura Smith
Pronouns:  she/her
Title: Vice President, Programs & Learning
Phone: 614.914.2245
Email: lsmith@philanthropyohio.org
Here's what I can help you with:
All things Philanthropy Forward conference
Joining peer groups to connect with colleagues statewide
Connecting to Philanthropy Ohio's racial equity learning programs
Conceptualizing how to create spaces for learning virtually and in person
Helping to develop a roadmap to your growth in the sector
What's your role at Philanthropy Ohio?
As vice president of Programs & Learning, I am responsible for the strategy and oversight of Philanthropy Ohio's suite of professional development programming offered statewide and the management of many collaborative relationships that advance our work and that of our members. In addition to my role with the P&L team, I take a lead role in implementing racial equity learning opportunities for our members in collaboration with experts in the sector. 
What's the best part about your job?
That I get to spend my days creating opportunities for growth – of individuals, organizations and communities. Our work is centered on equipping our members with what they need to succeed as leaders and community partners, which then allows them to help advance wellbeing and create change in our state. I love seeing the work of philanthropy in Ohio represented on the national stage and shining a spotlight on the creativity, innovation, passion and humility of the Midwest. 
When did you start work at Philanthropy Ohio?
February 2016 
Career background/education?
After growing up in the Dayton area and getting a bachelor's degree from Ohio University, I spent a bit of time teaching abroad and several years at an automotive software company where I volunteered on our associate foundation. From there I was off to the east coast to get a Master of Public Administration degree and work as a corporate grantmaker for a Boston-area health insurer. When Ohio called me home, I had the great fortune of joining the wonderful team at Philanthropy Ohio and continuing to pursue my passions for philanthropy, learning and social change in a new way. 
Current city, and what do you like about it?
Born and raised north of Dayton but now settled in Hilliard (suburb of Columbus). I love our Metroparks and coffee shops, especially our local gem – Coffee Connections. 
What's something people might not know about you?
I've been to six of the seven continents and it's my goal to hit Antarctica in the next decade. 
What do you do outside of work?
I'm a bit of a hodophile and always looking forward to my next adventure – big or small. I spend most of my time with my kiddos and husband, cherishing this amazing and exhausting stage of parenthood, and trying to soak up time in nature whenever I can.